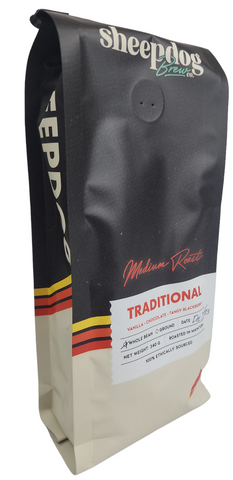 Sheepdog Nitro Cold Brew Coffee 355ml Can - Traditional
Sheepdog Brew Co.'s Traditional Nitro Cold Brew boasts a vibrant blend of Guatemalan and Colombian coffees. The intermingling of these distinct beans imparts our cold brew with rich notes of chocolate and a slight, refreshing fruity aftertaste.
This premium, all-natural coffee is meticulously cold-brewed for a full 18 hours, double filtered, and then infused with nitrogen. The resulting concoction is a sweet, aromatic, and bright coffee experience that decidedly lacks the bitterness and acidity often associated with typical iced coffee. Instead, it delivers a smooth, pleasing taste with each sip.
For optimal enjoyment, remember to shake well and pour with vigor. Always serve cold.
This brew is Vegan, Sugar-Free, Low Calorie, Non-GMO, Gluten-Free, and made entirely from All-Natural ingredients. 
Ingredients: Filtered water, Arabica Coffee.
*Please ensure this product remains refrigerated upon delivery.
---
We Also Recommend
---