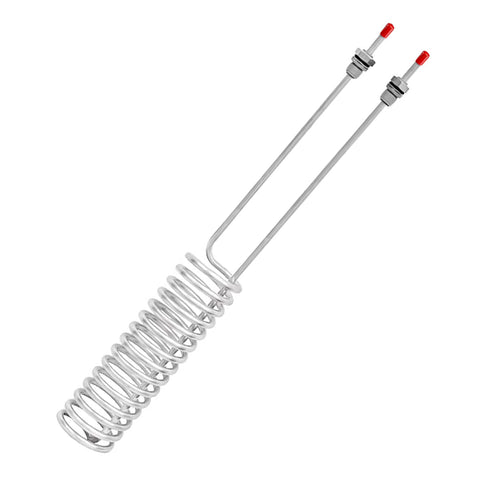 KegLand FermZilla Temp Twister Stainless Steel Coil - Control Your Fermentation Temperature
Discover superior temperature control with the KegLand FermZilla Temp Twister Coil. Engineered from premium 304 Stainless Steel, it's your versatile solution for optimal fermentation temperature regulation.
Key Features:
Craftsmanship: Built with 304 Stainless Steel, promising durability and performance.
Dimensions: Coil dimension is 9.5cm diameter x 68cm height, ideal for a snug fit.
Heat Control: Submerging in liquid allows absorption of over 250 watts for efficient heat transfer.
Versatile Use: Fits both FermZilla range and KegLand Kegmenters.
Installation: Simple attachment with included Duotight bulkhead fittings. 
Improve your brew with the KegLand FermZilla Temp Twister. Crafted from 304 stainless steel, this coil fits any fermenter of 110mm diameter or larger, enhancing heat transfer. Its 6m length and 9.5mm OD (3/8") ensure superior control over your fermentation process.
Installation is a cinch with included Duotight bulkhead fittings - just drill two 22mm holes in your fermenter lid. Whether for FermZilla Conical Fermenters or others, this coil's adaptability sets a new bar for brewing versatility.
**** You will need a glycol or similar device for this product to work.  ****
---
We Also Recommend
---