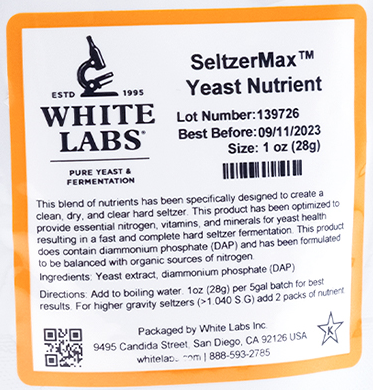 SeltzerMax Yeast Nutrient 90g - White Labs
This 90 gram pack of White labs Seltzermax is a blend of nutrients has been specifically designed to create a clean, dry, and clear hard seltzer. SeltzerMax™ has been optimized to provide essential nitrogen, vitamins, and minerals for yeast health resulting in a fast and complete hard seltzer fermentation. This product does contain diammonium phosphate (DAP) and has been formulated to be balanced with organic sources of nitrogen.  Use approx 25 grams per 6 gallons.
 Directions: Add at the beginning of boil with sugar. 
---
We Also Recommend
---